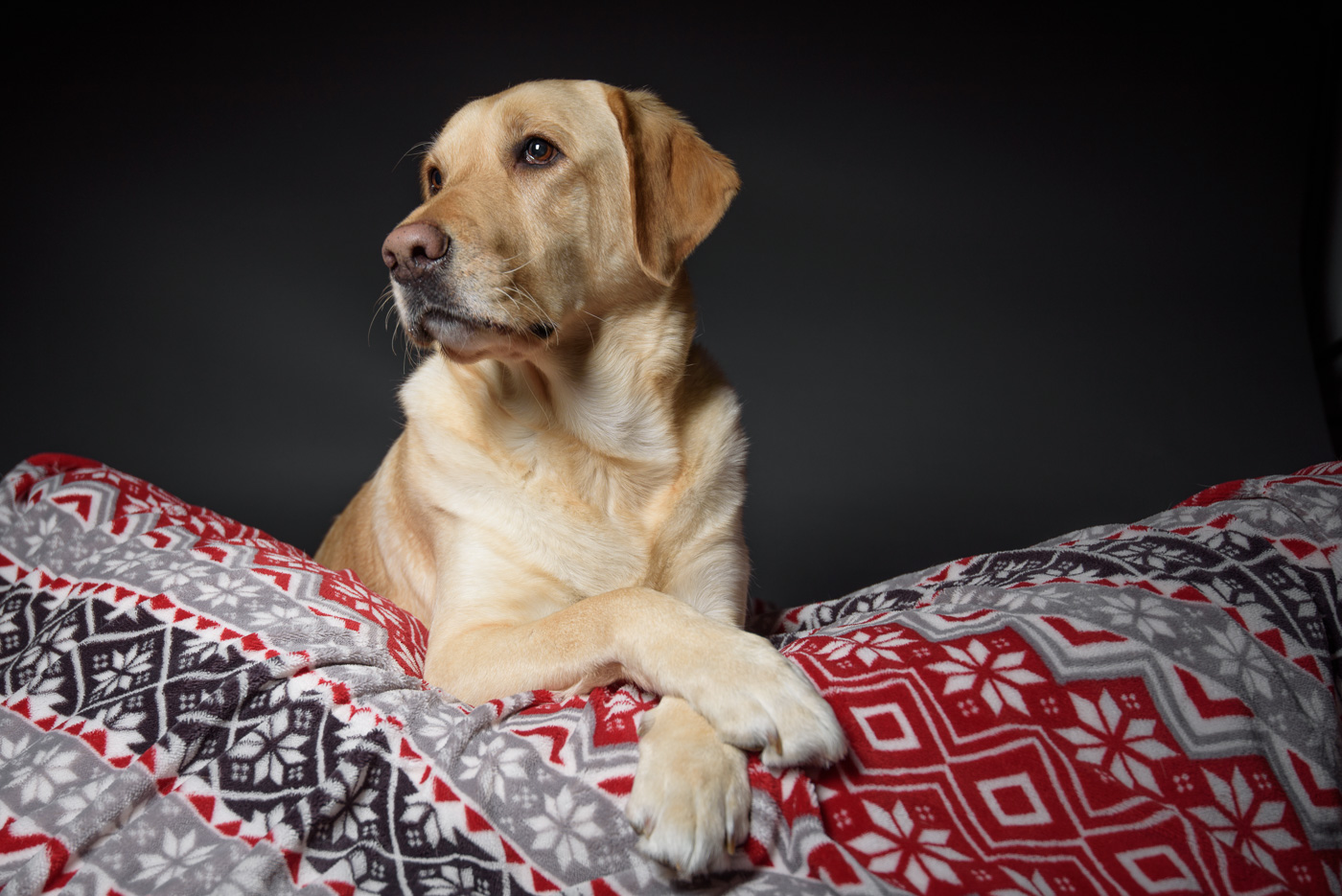 Now Offering Studio Dog Photography!
So Many Possibilities…
Simple, fun dog photography in studio is one of my favorite things to shoot to highlight your dog's personality and expressions. From simple portraits, to birthday "cake smashes" (yes those can be for dogs too), to holiday photos (from St. Patrick's Day to Christmas and everything in between) and every day fun shoots with props, cozy blankets, favorite toys or cute scarves and bandanas, we can shoot in all in the studio. Plus, studio photography can be done any time of day or year, so there will never be an issue with weather.
My goal, as with my outdoor sessions, is always to provide you and your dog with a unique, personalized and FUN experience from start to finish, and to create memories and images that you will cherish for a lifetime.
SIGNATURE STUDIO SESSION | $199
What's included:
Pre-Session Planning / Consultation

30-40 minute session for 1-2 pets

Studio location

Viewing of up to 10 professionally edited & enhanced proofs

Personal Viewing & Ordering Appointment

Selection of beautiful print and art products*

Social media, watermarked jpegs of all purchased images

Delicious, healthy pet treats

Lifetime memories!
*Customized art, prints and digital files are available for purchase at the Viewing & Ordering Appointment, and are not included in the session price. Small charges may apply for additional pets and extra studio time.
DETAILS:
Scheduling: Studio Sessions are currently offered on Fridays
Upcoming Dates: TBD - Please contact to schedule!
Location: Connecticut Photography Studio | 294 Route 81, Killingworth CT
THE WITH LOVE & DOGS PROJECT
Sharing messages of love, hope, kindness & equality
For a couple years now, I've been posing Oats with messages of love on chalkboards. These have been some of my most popular and by far most shared posts, so I have decided to turn it into a bigger project! I will now be working with YOU and YOUR DOGS to continue sharing messages of love, hope, kindness and equality, using chalkboard signs and a simple studio set up. The simplicity allows the focus to be on the dog and the message, and combines two of my favorite things: dogs and quotes. I have big dreams for this project, including an exhibition and possibly *a book!* and I would love for you to be a part of it.
If you're interested in the With Love & Dogs Project, let me know when booking your studio session. I have many quotes and messages I'll be using for this project, but if there's a particular message that touches your heart, let me know! Anyone who participates in this project will receive a complimentary social media sized, watermarked image of the chosen quote photo for online sharing!
If you're interested in this project but don't have a dog…there are other ways you can still be involved! I am currently on the hunt for various chalkboards (each photo will use a unique board) of different colors and sizes, and chalk artists (because my chalk artistry skills are pretty limited!). I am also accepting ideas for messages and quotes. Some of the topics I intend to focus on are: environmental awareness, civil rights, LGBTQ+ rights, ending violence and mental health. My hope for this project is to spread messages that matter, with the cutest possible subjects who understand only unconditional love - dogs.